You're going to know within a few chapters of any Chuck Palahniuk book whether or not his extremely distinctive voice speaks to you. In fact, some of his later writings (particularly Choke) almost read like self-parody (See also: self-reference, self-loathing, self-disgust.) That being said, at their best moments Palahniuk's raw, visceral, and nihilistic satires deftly skewer the inanity and impotence of a therapeutic culture gone mad. Be it the steroid-addicted religious icon of Survivor, the horribly scarred beauty queen of Invisible Monsters, or the self-help group addicts of Fight Club and Choke, Palahniuk's protagonists are not only damaged to the point of dementia, but projections of a traumatized society that revels in the surface of things so as not to disturb the deep places below. At the core of every Palahniuk book, underneath the narrator's piercing self-criticism and the defense mechanisms of the people around him or her, is a seething and inchoate rage directed both outward at civilization and inward at the human soul. When Palanhiuk's characters realize that they can't find a way up out of whatever's afflicting them, they invariably head downward, engaging in a frenzied orgy of self-destruction as an escape from their ruined, unsatisfying lives. In the words of Tyler Durden, Palahniuk's most famous character, "The farther you fall, the higher you fly."

Palahniuk's books are not to everyone's taste. While consistently funny in their own way, they're also caustic, vicious, disturbing, and sometimes downright repulsive. (There's a scene in Survivor involving a lobster that still makes me gag every time I think about it.) But the question that Palahniuk is asking, however repetitive, is one that will continue to haunt proponents of progress, even as a nagging voice from afar. Is this marvelous edifice of civilization that we've created really the best thing for humankind? Or is there something dark, malevolent, and untameable in the human Id that will always be driven to slake its primal thirst, tear apart the foundations of modern existence, and embrace personal annihilation? We might think we know the answer, but Tyler might think different.

As most everyone knows, Palahniuk's first book - Fight Club - was made into a film by director David Fincher and starring Brad Pitt and Edward Norton. While the film aroused strong negative reactions from some corners, I thought it was easily one of the most original and daring films of the 90's, and a disturbing and unforgettable coda to the dot.com decade.



His name was Chuck Palahniuk.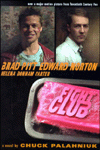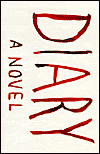 Back to the Library.