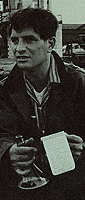 Of the major figures of the Beat, I most enjoy the work of Jack Kerouac, Buddha of the travelogue. On the Road is a whirlwind of a road novel that fills the "America on wheels" historical niche between The Grapes of Wrath and Fear and Loathing in Las Vegas Through the eyes of Sal and the mouth of road buddy Dean Moriarty, Kerouac brings to life the smoky jazz clubs of the big cities and the wide, lonely thoroughfares in between. I dug it, man.
Although I can't say I'm a huge fan, the rest of the Beat deserves a shout-out too. Allen Ginsburg was an expressive poet best known for his classic Howl. ("I've seen the best minds of my generation ravaged, etc.,") William S. Burroughs, who passed away recently, may have been the most surreal guy to ever come out of Harvard - he is best remembered for Naked Lunch, a mind-bending tale of smack and its attendants.
Hey, Jack Kerouac.

The Beat doesn't stop.
Back to the Library.