Nick Hornby, a British writer and contributor to Time Out Magazine, is included on this list on the strength of his very smart, funny, and dead-on work of fiction, High Fidelity. The novel begins with our protagonist, a quickly-approaching-Thirtysomething Gen-X record store owner, mulling over his Top 5 Most Painful Breakups of All Time. After traveling down this painful road, he assures us that his most recent romantic failure, the departure of his live-in girlfriend Laura for the guy upstairs, doesn't come even close to making the list. But then, why does he find himself doing such humiliating things to get her back? His pals at the record store, who spend their days making mix tapes and top five lists, can't tell him. Neither, he discovers, can he tell himself, although he thinks it has something to do with all the depressing music he's listened to all his life. Who's to blame for this snafu of the heart -- our hero or Elvis Costello?
In sum, High Fidelity is a smashing piece of work. Fever Pitch, Hornby's non-fiction memoir about his obsession with the Arsenal football club, and About A Boy, Hornby's follow-up to High Fidelity in which a man invents an imaginary child in order to pick up single women, are also worthwhile reads. And while I didn't enjoy How to Be Good quite as much as his other works, it's nice to see Hornby trying to break out of his normal narrative confines.
Everyday he writes the book.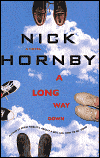 Back to the Library.